When looking for car storage services, you want to make sure you are getting the most for your money. However, you should not compromise on quality. If you do, it could result in damage to your vehicle. Luckily, we offer first rate services. Several storage options exist to suit every need. This means you can also find something to match your vehicle.
Spring is an important time for so many vintage car owners. Normally, this is when they bring their vehicles from storage after the winter. However, the new season can bring some maintenance problems. All of these originate from the manner in which you stored your vehicle. If you want to avoid issues, then you should make sure you don't make these car storage mistakes.
Engine running
It may not be wise to start an engine and allow it to run for a few minutes in the winter. Some people believe this will help them. In reality, this is one of the worst things you can do. Your engine is cold and it will suffer from fuel dilution. There is also going to be moisture in the crankcase and blow-by. If you run the engine just for a few minutes, it won't be sufficient for the engine to warm up. As a result it cannot evaporate everything out properly.
Oil changes
Another problem relates to the oil supply. Individuals that run their cars in the winter might believe their oil goes off during storage. Things are not that simple however. Under the right circumstances, it is possible for oil to reside in your engine for six months. After these long months, you can still drive.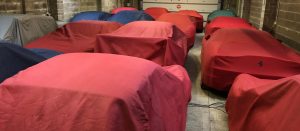 You can determine whether you need to change the oil by looking at your actions. Anyone who has been cracking their car once each month with it in storage should immediately change the oil. You should also change the oil if you did not do so when you put the car away. Don't change the oil if you put a fresh batch in when you stored it.
At Rudler Car Transportation and Storage, we see to it that every car receives the care it deserves. It is the same whether you select our car storage service or one of our other offerings.
Contact us today if you would like to find out more about how we store our clients' cars. We are happy to discuss each service and the benefits it can offer.