We have a long and successful history of moving cars from various locations in the UK and overseas. Our car transportation service is flexible but particularly popular with the owners of vintage and classic models. We are also capable of handling prestige motors. As far as covered, secure transportation goes, we are considered the first choice for countless people.
For many individuals, it is likely true that the idea of having someone transport their vehicle somewhere else sounds ridiculous. This will certainly be the case if you are planning to move to another country. You are probably thinking – why do that when you can just drive yourself? That is what cars are for after all. If we are being frank, there are numerous reasons why transportation services make more sense. Read on to find out more.
Are you feeling worn out?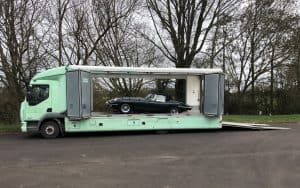 To begin with, it will be a less tiring experience. Let's continue to use the example that you are moving to another country. This could be an incredibly long road journey. Here you run the risk of tiredness affecting your driving. It could lead to big problems and even damage your car.
Plus, in this same scenario, by the time you get there you will likely be in no shape to do the unpacking. Considering at this point, you might have a cargo trailer full of things to move into the new house. How much money are you willing to bet that you will have to use a sleeping bag for the immediate future? Why are we saying this? It is because you won't have the energy to unload everything after all the driving.
However, if you use our top tier car transportation services, you will have a much easier time. At the very least, you will have more energy when you arrive. That means you will be able to move some important things in and can appreciate the new home straight away.
No accidents
Using transportation is also an excellent way of avoiding accidents. If someone is going to be doing a lot of driving, they will be using a lot of rest stops. This will be the case even if you have multiple drivers to take turns. Even then, tiredness can become a big problem. If you become too tired, mental acuity is going to decrease. This shall put you in greater danger of getting into a traffic accident. You don't want to get into any accidents, especially if you have family in the car.
Do yourself a favour and choose a professional transportation service. It will save you from the stress and fatigue of driving long distances. This means you have no risk of an accident. It also ensures you get assurances that your vehicle will be moved safely.
Car transportation for any destination
At Rudler Car Transportation and Storage, we assist clients residing in the UK and across the world. The cars we move include models of Rolls Royce, Ferrari, and vintage Austin cars. Whenever you ask for a quote from us, you can rest easy knowing that we are completely compliant. Not to mention, every driver we have has DPD training.
So, if you wish to work with us when you need car transportation, you can contact our team. We cater for any requirement, whether it is car shows, moving home, or even selling to collectors.