We have spent decades moving cars across the UK and beyond. This is something we do in a safe and secure manner because we want every client to have the best service. A large number of our car transportation clients own vintage and classic models. Not only do these often have very high monetary values, they are also sentimental. Luckily, we do everything possible to keep them in top condition.
There are many individuals out there who will need to move their car from one end of the country to another. Some will need to go the extra miles and take it to an entirely different country outside the UK. They have a choice here. Driving is one option. Transportation is the other. Both options come with their own pros and cons. Saying this, the latter is certainly the better choice, even though you need to pay for it. What we are going to do is discuss some of the main reasons why transporting the car is better than driving it.
Fewer miles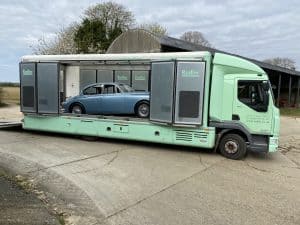 To begin with, you are not going to accumulate those miles on your odometer. Countless individuals find road trips a great deal of fun. However, the more mileage on a car, the more wear and tear on key parts. This can result in costly replacements. It can be even worse with vintage cars as original replacement parts can be hard to find.
In addition, mileage affects the resale value if you are planning to sell at some point. The best way to get the biggest return is to keep the miles to a minimum, especially with rarer vintage vehicles.
Having the car transported is the best way to keep those miles off the meter and preserve the vehicle. If you desire the finest car transportation services, make sure you call our team.
You will be a lot safer
Transportation is also better due to safety; this is critical. For those contemplating driving over a long distance, you need to think about the chance of accidents. They happen frequently, especially when people are covering long distances and suffer from tiredness. Driving on unfamiliar roads with different laws can be tricky too. Plus, one second is all it takes to lose your vehicle forever.
Our intention isn't to scare people here. The reality though is that it is possible for anything to happen on the road at any time. Due to this, the additional price of transportation is often well worth it.
We're insured and practical with car transportation
At Rudler, we have a great selection of transporters. With them we can move between one and four cars at one time. There is a choice of open and covered options, but we always recommend the latter for extra protection. Additionally, we have fantastic insurance to give you even more peace of mind.
So, if you would like to know more about our car transportation service, you can contact us. We can provide quotes, tips, and more.