We provide car storage at our dedicated site in rural Wiltshire. Our team has years of experience in looking after vintage and classic cars. Using what we know, as well as some of the best technology, we can keep your vehicle safe. In addition, we will be able to keep it in top condition.
If you are a car lover, caring for and driving your vehicle as often as you can is an incredibly enjoyable experience. Saying this, there are numerous reasons why you will want to store it for a time. For instance, you might wish to do so because of work commitments that require you to go overseas. On the other hand, it may be the case that you own a classic convertible that simply gets all its use in the summer. Over the winter, you will want to keep it safe from the elements.
Find suitable long term storage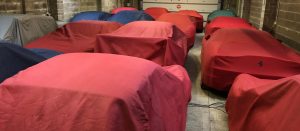 No matter what your circumstances are, you will want your car to remain safe when you are not using it. For the majority of people, this means finding some way of storing the car inside. By using a long term solution, you will keep your car safe. A dedicated car storage service like ours is the answer.
We feel that it is important to talk about how long a car can sit without you driving it here too. The amount of time you are able to safely store a vehicle for is linked to the effort you put in to locating a suitable storage solution. Not to mention, you have to sufficiently prepare for it.
Something experts agree on is that no car should sit for more than one month without starting it periodically. It is best to let it run for ten minutes or so each time. This will help to prevent issues.
Keeping your car protected
Your plans might require you to store your car for over a year. If so, you shall have to carry out multiple steps to keep your car safe prior to storage. Failing to do this can lead to more issues. This includes rust, battery damage, and thick unresponsive fuel. Additional complications could include leaking oil, flat stiff tyres, and brittle seals and gaskets.
By doing the necessary work, you will lessen the effects of storage considerably. When it is time to finally reclaim your car, you will have a far more pleasant trip back home.
We have a superb car storage site
At Rudler Car Transportation and Storage, we have top notch CCTV surveillance covering our site. Additionally, there is electronic coded entry and a sophisticated alarm system. This is directly connected to a central monitoring station. Everything is secure here and we don't store vehicles outside.
If you would like to experience our car storage service yourself, please let us know. We have the skills to handle all kinds of vintage cars, include the rarest models. We can also adapt the service to suit any needs.