Storing a car is a great idea when you are not using it. However, many owners may feel uneasy leaving their vehicle without any extra protection. It is here where car covers come into play. With so much experience in this field, our company understands which designs work best in specific circumstances. As a result, we can help you to choose the right products.
The best car covers shall protect your vehicle from damages. You must clean and maintain your vehicles frequently when you store them. This will keep them in the best condition. But, it is critical to do the necessary upkeep of a vehicle's accessories too. The cover is no exception. When covers are in prime condition, they make sure your car is sufficiently protected.
Before purchasing your cover there are a few other details you should take into account.
Right size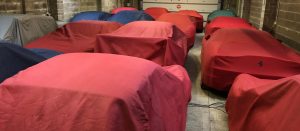 When shopping for covers, you need to ensure that you get the right size. That can be tricky in some cases, especially if you have a unique vintage vehicle. But, what you can do is get a custom fitted design. To get one, you normally have to provide basic details about your car. This includes things like the year it was made, the make, model, and trim.
Custom fits shall be designed to fit each detail and contour of your vehicle. That offers superior protection. These covers tend to be more expensive than other models though. However, they guarantee no slip and full coverage. You won't need to concern yourself with a loose fitting or parts lacking protection.
Cost
Firstly, you need to consider the cost. You need to keep your budget in mind to see what you want to spend on a cover. However, always keep in mind that a cheap, low quality one won't be a good investment. In fact, it could potentially cause more harm than good. This could include scratching the paintwork or trapping moisture. You are best off investing in a good cover.
Colour is also important
Choosing the right cover colour can be important too. You might have a favourite shade. However, it should not necessarily be the one on your cover. The ideal cover colour is typically lighter. This is because they normally have optical whitening agents capable of absorbing UV. Anyone uncertain about white covers that have superb UV absorption abilities can go for vibrant, dark colours. They naturally absorb the UV.
The one time you should not get a darker cover is when you own a light coloured car. The cover's colour might bleed onto your vehicle's exterior.
We have plenty of options for car covers
At Rudler Car Transportation and Storage, we have plenty of covers to offer our clients. In addition to custom fit ones, we have indoor and outdoor designs. The Supertex is our indoor solution and the Moltex-5 is for the outdoors. They can offer excellent protection for different vehicles.
So, if you are thinking about using car covers, please give us a call. We can recommend a product for you that will offer protection for as long as you need to store your vehicle.