While you might think that the only way to take your car a long distance is to drive it, this isn't true. Car transportation services will take the wheel of your vehicle for you. There are also other options like specialist transporters and trailers if you don't want anyone driving your car.
To Drive Or Not To Drive
You need to think carefully about what to do with your vehicle if you plan a major relocation. It might appear smart to drive it to its destination, but this is not always the best method, especially if you need to get across country. When you look at the benefits, you can see why our services are attractive. They are sensible and cost effective.
A Safe Option
A road trip involves a lot of different considerations. It can be hard to concentrate on a long journey. Distractions and tiredness can also be very dangerous. Along with the stress that comes with a relocation, it might not be smart to try a long drive.
Convenient
Seeing as you are already dealing with the stress of moving, it makes sense to avoid a long drive. Our service will take your car and deliver it where you need us to with great care. As a result you can concentrate on other matters without worrying about your vehicle.
Save Money, Time, And Effort
Going on a long journey with a car has a lot of costs. This is for petrol, overnight accommodation, and food. You will also likely be exhausted after driving for miles and miles. You can instead let professionals handle this for you.
Less Mileage
Your car might not be able to handle the strain of a huge journey, especially if you do not drive it often. This will also add on a lot mileage which lowers resale value. It can even shorten the lifespan of mechanical parts while wearing down the tyres.
The Best People To Trust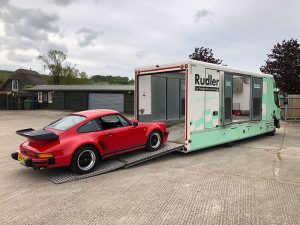 There are other situations where it is sensible to use our services. Examples of this are when you are buying or selling a car or you are taking your vehicle to a show. We work hard to help make sure everything goes smoothly.
Our leading car transportation services are perfect for vehicle owners who want to care for their pride and joy. Read about our work and various services on our site. You can also get in touch with us if you want to know more.