A lot of individuals own cars that they are proud of. It might be vintage, sports, classic, or prestige, but the right standard of car storage is always essential. This way when you come to use it, you won't have to worry about discovering that there are issues. Rudler is proud to offer a range of options that you can use to store a vehicle safely.
Location
The location is important because it will determine how safe your car is from theft, damage, and other issues. Outdoor options will leave it exposed to harsh conditions which will result in deterioration. This is not always apparent when looking day to day but over a longer period of time it will become evident.
The best storage comes with the help of professional services and a specialist building. At Rudler, this is precisely what we offer among our other solutions for your vehicle. You can have confidence that we will care for your vehicle for as long as you need us to.
Secure
A huge worry when storing a vehicle is often damage and theft. You never know what could happen; by the time you come back to your car you could have a serious problem to deal with. There is a relatively simple way to get peace of mind; use a purpose-built, secure facility.
We use CCTV surveillance, a state of the art alarm system, and also electronic coded entry. Therefore, you can have trust in our security measures.
Climate Controlled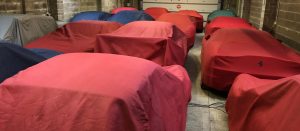 Moisture causes rust and mould in vehicles; dehumidifying is necessary to stop this from harming yours. This is why our building is insulated and dehumidified. For even more protection, we can also offer you a monthly vehicle check, air chamber storage, and other extras.
Passionate About Cars
If your vehicle is your pride and joy, you can count on us for excellent methods of car storage. We have solutions to satisfy an array of needs. This is from covers and battery conditioners to air chambers as well as professional transportation.
You can learn about our extensive services when you look through our site. You can also reach out to our team if you require additional information about our work.