Classic cars can be immensely valuable, both in terms of their monetary value and sentimentality. Part of this comes down to their rareness. That also means it is more important to ensure you store them properly. Rudler can help with this, arranging long term car storage to suit any kind of needs.
Servicing
Whether you drive your classic car regularly or rarely, it is a really good idea to get a service before you take it for storage. This can be really helpful because the technician can check for any issues. They will give you a better idea of the condition of your vehicle and ensure there is nothing that could become a serious issue while the car is in storage. In addition they can replace oil and top up other fluids. That ensures they won't run out while the car is off the road.
Proper protection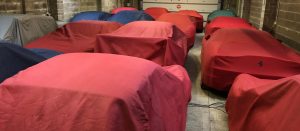 One thing to keep in mind is that classic cars as a whole can be very rare. That means spare parts are very hard to find. With that in mind you need to ensure your vehicle will have the right protection. You don't want to get it back later only to find that there is damage to any parts you may struggle to replace. This includes things like metal components, parts of the interior, and even original tyres.
The best way to store a classic vehicle is to give it multiple layers of protection. Firstly you should put it in facility where it will be safe away from the elements.
Then you can use an air chamber if you want to ensure the air around the vehicle is free from harmful moisture and dust. This is a great choice, especially if the facility itself does not have temperature controls and good ventilation.
Finally, you can choose a cover to give one more layer. It needs to be the right size so it protects the vehicle. It should also be a soft material that won't scratch the paintwork.
Come to us for car storage
Rudler is a company with an excellent reputation. We have been providing solutions for classic cars for many years. This includes both shipping and storing them. We have a very happy customer base and are always happy to offer services to new clients who want our help.
When it comes to storing classic vehicles, we can take care of everything. This includes rare models from all kinds of periods. We have a great facility and access to top of the range air chambers and car covers too. That means we can tick all the right boxes.
So, if you want to learn more about car storage, contact us. We can give you a quote, advice, and more.