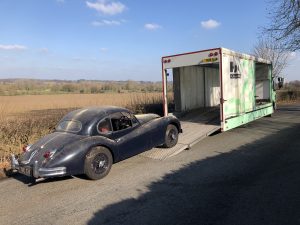 When you need to use car transportation services, you should put your faith in people with experience. Our team has been working in this area for over three decades. In addition to moving vehicles nationwide, we can handle shipping to locations outside the UK. If you need your vehicle to travel safely, we can make it happen.
Due to our experience in moving cars overseas, we know our fair share about the shipping process. Packing up all those small objects like kitchenware and clothes is one thing. However, preparing to move your car is a whole different game. Yet, this can be a straightforward process if you take the right steps. What we are going to do is provide some tips for getting your car ready to ship. By following them, your experience will be a smooth one.
The paperwork
Firstly, you have to collect all the significant paperwork. This is the best way to save the headache that often comes on a moving day. You are going to require multiple documents to prove that the car belongs to you. Keep copies and originals together to make things progress more easily. These documents include your driver's license, passport, registration details, and proof of car insurance.
Maintenance
Another important step is ensuring that you are up to date on your maintenance. This is something else that will make the car transportation process go more smoothly. It is preferable to handle any necessary repairs and resolve issues prior to shipping a car. See to it that the tyre pressure, battery charge, and fluids are topped up. Check for leaks too.
Exchanging keys
At some point, you will also need to exchange keys and lock up. It is not unheard of for a shipping company to need a set of car keys from you. They will need them in the event that they need to move your car while transporting it. Don't provide them with your only set though. Have a copy to ensure an easy handover following the car's arrival at the destination.
Legalities
Finally, before the moving day, finish all the necessary legal paperwork. This is the last phase in shipping vehicles overseas. You will have to sign the bill of lading too. Shipping companies are capable of helping you with everything if you need them to. The bill of lading includes the car's arrival and departure locations. It also details its issues and condition. Give the contract a good read and keep a copy.
Secured and insured car transportation
At Rudler Car Transportation and Storage, we have a reputation for being the top choice for secure transportation. The types of cars we move include vintage Bentley, Lancia, and Rolls Royce models. Whether we transport or drive them, every vehicle is fully insured while they are with us.
So, if you would like to use our car transportation services, please give us a call. You can tell us your needs, destination, and more. Then we will suggest the best service for you.