The Rudler team has built an impressive reputation as the country's best choice for secure car transportation. From Rolls Royce to Ferraris, we have experience moving a variety of vehicles. Every driver we have has DCPC training. In addition, we take steps to ensure our transporters are always properly loaded. Therefore we can offer a great service every time.
If you are moving home, have sold a vehicle or are attending a show, you need to decide how to move the car. The easiest option is to drive yourself but that takes time and puts mileage on the clock. A better choice is to choose a professional transport service. This can offer lots of benefits.
Types
Before you settle on a service you need to look at the two different types of car transportation. They offer different pros and cons and each one will be better in specific situations.
Open
The most common service is open transportation. You have probably seen these transports on the road before. They are usually two levels and move multiple vehicles at once. However you can choose single level ones for either several cars or a single vehicle.
The thing to keep in mind with this kind of transport is the vehicle is at risk of dirt and road debris. As a result it may arrive at its destination dirty or with slight imperfections. This risk is offset by the fact that the service is generally cheaper and it is suitable for most types of vehicle.
Enclosed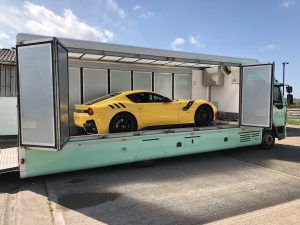 As for enclosed transportation, the obvious benefit is that the vehicle has superior protection. It will be sealed away within the transport so it is safe from the weather, dirt, and road debris. This service is also more secure as the driver can lock the transport so nobody else can access the vehicle.
The thing to remember about this kind of service is the cost. It will be higher than open transportation for several reasons. Firstly, in most cases your vehicle will be the only one the driver is shipping. As a result you have to pay the entire fuel cost rather than splitting it with other deliveries. In addition, the transport itself will be heavier so the fuel cost will be higher.
Which type of car transportation to choose?
Like with most things the cost will probably be your main consideration. However, you should also think about the level of protection each service offers. On top of this, consider what condition you want the vehicle to arrive in. Do you want it to be fresh and clean ready to show off?
Another thing to think about is your schedule. Do you want a set time when your vehicle will arrive? It is harder to offer this if you choose open transport and are just one name on a list of drop offs. There may be delays here if it takes longer to deliver other vehicles before yours. With enclosed transport you are the only client so there is less chance of lost time.
Work with us
At Rudler Car Transportation and Storage, we assist clients across the UK and around the world. No distance is too far for us and we even have relationships with reliable shipping companies.
If you would like to work with the top business offering car transportation, make sure you contact us. We take care of every vehicle, including prestige models and rare classics.