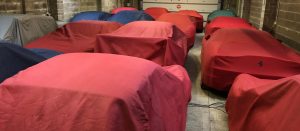 Whenever people need top tier car storage services, they come to us. Situated close to Gatwick and Heathrow airports, we can assist customers from across the globe. We cover the site with CCTV surveillance and limit entry. Not to mention, every building has a state of the art alarm system. So, with us there is maximum security for your vehicles.
There are many reasons to store a car with us. Typically, a lack of space is the most common. However, there are more particular situations that require a professional service. We are going to discuss some of them in this post.
Military deployment
Firstly, there is storing a car when someone is on a military deployment. Our storage service can give you the long-term, secure solution you need. Just make sure you prepare your car properly beforehand so it will be in a great condition in the future.
City living
People also often store cars when they live in big cities. You may live somewhere that has simple access to public transport. In this situation, there is a good chance that you won't need your car on a regular basis. It is here where using a car storage service can be an excellent option. You can also rely on it if there is a lack of safe parking or storage where you live.
Keeping it safe for the kids
There are those that will store a car for their young children. You might have recently bought a new car and want to save the old one for a child to drive in the future. With our storage service, you can store it safely until you are ready to give it to them. It can free up your driveway or garage until they can start driving.
Business cars
Storage services can be very useful to people with business cars too. If you get a work vehicle you may use it frequently and be happy parking it at home. However, it can cause trouble if you have a personal vehicle and don't have a lot of space. Here you could store your car until you need it.
Life transitions
Lastly, people tend to use storage services when there is a life transition happening. When we say this, we mean moving or something similar. Short-term services can be beneficial here. You could store your car for a month or two while you focus on the new change in your life. For anyone moving during the damper and colder months, interior storage should be your first choice.
Work with our business for first rate car storage
At Rudler Car Transportation and Storage, our buildings and site access all have excellent security. Our company does not store any car outside either. Plus, the options we have can meet various budgetary requirements. We can hold over 150 cars at any one time as well.
So, if you are interested in using our car storage services, feel free to contact us. We can give you a quote, advice, and more. Plus, we can even collect your vehicle if you need us to.