Based in Wiltshire, we provide high quality car storage services for our clients. Our facilities are suitable for any need, whether it is modern or classic cars. In addition, we are near enough to Gatwick and Heathrow airports that we can easily work with international clients.
Lousy weather means it is time for storage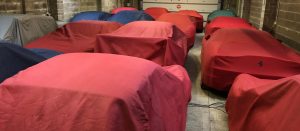 When the weather starts to get bad, owners of classic and sports cars usually start to put their vehicles back away. Slippery roads, sub-zero temperatures, rain, and snow aren't things you will want to expose the car to. They can all cause problems for you.
There are also other reasons why storing the vehicle properly is critical during these times. For one thing, the motor shall be in better condition for driving when things warm up again. Secondly, you can avoid expensive repairs. Furthermore, this action prolongs the vehicle life.
You might not have gotten round to attending to your motor's car storage needs just yet. If so, then you should probably look at it. The following advice shall aid you in keeping your cars in top condition until you need to drive again.
Working on the exterior
To begin with, you will have to clean the car's exterior. It is vital for your vehicle to have a thorough wash. Avoid drive-through car washes though. Hand washing is the way to go; it is much gentler so you won't risk issues like scratches. While you are working, give your car's underside a decent spray wash too.
Once your car has air-dried, it is a good idea to wax it to maintain the finish. Giving the car's chrome a polish may be worth it as well. That can protect it against pitting and other wear.
Once you complete these steps and a few others, you will be ready to cover the motor. When the storage period comes to an end, you will have a well-preserved, fresh exterior to enjoy.
Interior checks
Don't let the exterior get all the attention though. Give some TLC to the interior too. Anyone who loves their classic cars won't want to leave it a mess. Even so, we should still mention that you need to clean it before storing. Any food certainly needs to go. This will minimise the chances of pests making their way inside. There won't be any nasty odours either.
You might also want to think about investing in seat covers to give your upholstery more protection. Another good idea may be to put some desiccant packs in the motor. If there is any extra cabin moisture, they will absorb it.
We cover all the angles with our car storage
At Rudler Car Transportation and Storage, we have the perfect facilities to keep vehicles safe and secure. Our site has electronic coded entry and CCTV surveillance. There are also state of the art alarm systems with a central monitoring service. As a result, there is no risk of issues like theft or vandalism.
When it comes to car storage, we don't store anything outside. Instead, we keep everything safely inside. This provides protection against the elements and you can even choose air chambers for climate control.
So, if you would like to use our services, please give us a call.